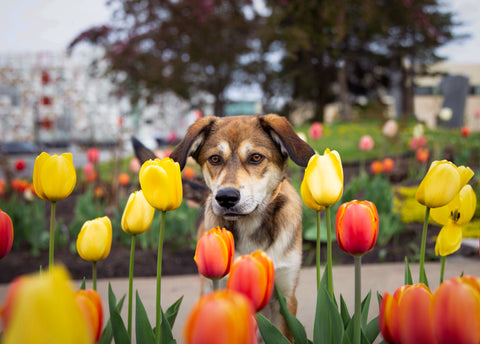 How to protect your pet when spring arrives
After long winter months spent in the cold and the snow, the arrival of spring delights more than one! The thaw, warmer temperatures, trails reappearing under the snow and nature coming back to life mark the season of renewal. The masters as much as their animals are enthusiastic to return to long walks in nature.
However, the season brings with it certain threats that our pets may be exposed to.
Here are some of the most common:
The insects
With the rise in temperatures also comes the arrival of several insects and parasites from which we were sheltered during the winter. Before enjoying the outdoors, it goes without saying to make sure that your animal is well protected against these little beasts which can be disturbing or even dangerous. These include ticks, mosquitoes, fleas and sandflies. Be sure to protect your pet with tick and flea treatment. There are many solutions to prevent insect bites but before making a decision, your veterinarian will be able to guide you towards what is best for your animal.
To learn more about the different risks and diseases and their symptoms, read this article.
Flowers and plants
The arrival of spring gives us a glimpse of the first colors that nature had hidden under its blanket of snow over the past few months. Despite their beauty, some plants and flowers are toxic and can be very harmful to your dogs and cats, including:
Lilies

Crocuses

The tulips

Narcissus

Daffodils

Hyacinths

Lily of the valley
In addition, certain lawn or plant products can be particularly toxic, whether natural or chemical, in particular:
Recipes based on blood or bones

Fertilizers for roses and other plants (containing disulfoton or other types of organophosphates)

Pesticides and insecticides (especially those in cans)

Iron (added in some fertilizers)
Here are more comprehensive lists of indoor and outdoor poisonous plants for cats and dogs.
Useful chart to keep handy
Pay attention to what your animals eat during outings and do not hesitate to contact your veterinarian if you witness any abnormal behaviour or symptoms. Note that some symptoms may only appear several days later.
Cleaning products
Spring heralds renewal and many take the opportunity to clean up! Some cleaning products can be harmful to pets if ingested. Be sure to store these products safely and out of reach of your pets. It is also recommended to carefully read the list of ingredients of the products you use or simply to turn to natural and safe solutions.
I share with you in this article my favorite recipes and a list of products that we have tested and adopted for several years.
The walks
With the milder weather, the smells wake up and the muzzles are very stimulated! Some dogs may get distracted by all these new smells and be less obedient. Here are some tips offered by Geneviève from Cynial Canin:
Go back to your training bases.

Prioritize places with few distractions to start with.

Remember to allow your dog exploration time where he can sniff at will.

Do fun games and training with your dog to bring pleasure and complicity to your outings.

Pull out high-value treats while you refresh your dog's memory of walk rules.
Here is a list of hikes where to walk with your dogs:
Allergens
Just like humans, pets can develop seasonal allergies to dust, pollen, mold, and other allergens at any time. Symptoms may include sneezing, coughing, itching, and rashes. If you notice these symptoms in your pet, consult a veterinarian for proper treatment.
Hoping that you and your companions will have a safe and sweet spring!
KALŪ's team