Subscriptions
Discover KALŪ subscriptions for hassle-free, high-quality pet food. Simplify the delivery of their food by tailoring the deliveries to their needs. Give them the best with KALŪ.
Determine the subscription that's suits you best
Determine the amount of food you will need based on your pet's weight and the best frequency to reduce greenhouse gas emissions associated with deliveries made to your home.
Find your subscription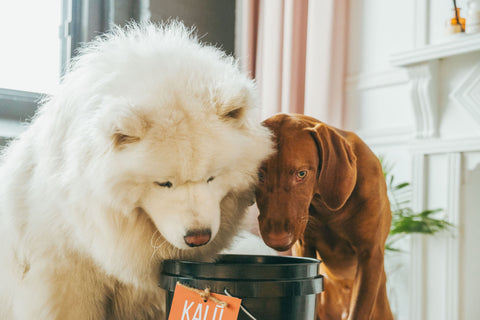 Subscription for several animals
We can create a personalized subscription for all your pets. Simply fill out the form and we will send you a link to activate your subscription by placing your first order.
Subscription for several animals
How the subscription works
With the subscription, your delivery is scheduled according to the interval you have selected and the products will be sent automatically after each successful renewal. Therefore, if you have activated a monthly subscription, the system will automatically charge your credit card each month and your products will be shipped following the order, without any action on your part!
The responsible subscription
By opting for a larger quantity of food for your pet and reducing your delivery frequency, you can reduce your bill and your environmental footprint, in addition to contributing to KALŪ's mission by prioritizing sustainable and eco-friendly choices.
Subscription FAQs
Can I pause or cancel my subscription?
Yes, it is possible. If you have not already done so, it is recommended that you create an account, in order to have easier access to your history and your upcoming orders. You will be able to make adjustments more easily from your profile.
Can I subscribe for several animals?
If you wish to create a subscription for several animals, we invite you to fill out this form . Once the form has been completed, we will contact you directly to send you a personalized link allowing you to activate your subscription by placing your first order.
Can I add products to my subscription?
Of course you can! You can add products to your subscription from the customer portal. You only have to click on the "Edit" button in the product page to modify, delete or add products to your subscription.
What if the payment cannot be processed?
If the subscription cannot be renewed due to an uncompleted transaction, you will receive a notification email with a link, where you can securely update your payment method.