The carbon footprint of pets is significant. While climate change continues to have real impacts, our approach aims to support teachers who wish to take action, by choosing, every day, to make small gestures that contribute to the protection of the environment.
Choosing KALŪ is a way to reduce waste and opt for local ingredients.
Together, let's change things
At KALŪ, we are convinced that the best way to encourage our customers to make sustainable choices is to offer products designed with the utmost respect for the environment around us.

Thus, we have taken care to select top quality ingredients, locally, in order to prepare our pet food.

Then, we made the choice to offer it in compostable and biodegradable or reusable packaging (with our zero waste option).

With our affordable and accessible solution, you can finally make choices that match your values!
A certified B Corporation
We became a B Corp to reaffirm our commitment to reducing waste, prioritizing local ingredients, reducing our greenhouse gases and more. With this certification, we must report on all aspects of our business in order to confirm the positive impact we have in our community, both human and animal.
Learn more about our various initiatives in the following paragraphs.
Our eco-frinedly packaging!
Compostable bags
We have chosen to distribute our products in certified 100% biodegradable and compostable bags. The bags are made of 3 layers: paper, metallic PLA and PLA. Polylactic acid is biodegradable and can be obtained from corn starch. The metallized PLA layer will provide high barrier protection against oxygen and moisture. This bag includes an airtight closure that is also 100% biodegradable and compostable.
It's all in the details
In addition to having chosen eco-responsible packaging, we also opted for the use of labels made of 100% recycled paper, tied with compostable jute cords. Also, when necessary, we use biodegradable packaging shells made from corn, to ensure the integrity of the packages until destination.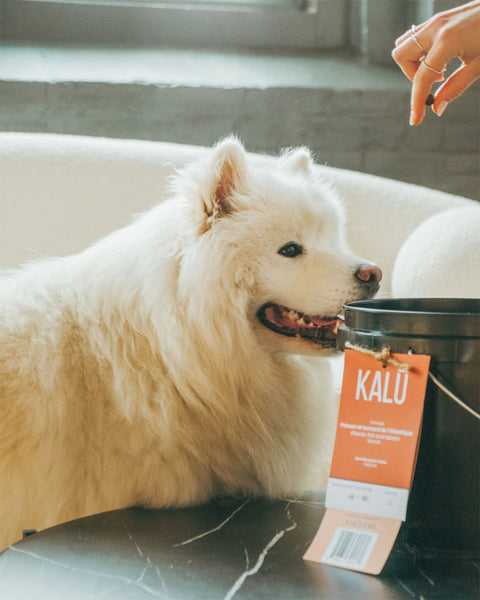 Zero-waste solution
With the zero-waste option, you will receive your dog or cat food in a sealed reusable container, which is then collected in store or upon subsequent delivery.

The containers are made of high-density polyethylene (HDPE), a high-performance and durable material, with a useful life of several decades. Pails are cleaned according to human food standards. At the end of their life, fully recyclable buckets (HDPE 2) will continue their life cycle through further processing.

Discover our zero-waste zone
Greenhouse gas compensation
Greenhouse gases associated with deliveries made to the KALŪ warehouse are certified and offset via Planetair (an initiative of the UNISFÉRA International Center) by purchasing Gold Standard carbon credits.
Read more
Quality local ingredients
At KALŪ, we have taken care to select the highest quality ingredients, locally, to prepare our pet food. The food is made in Canada without GMOs, by-products, colors or artificial flavors.

By prioritizing local and sustainable ingredients, KALŪ ensures that we reduce our impact on the environment, in addition to offering a superior product.
Discover our ingredients
We purchase Gold Standard carbon credits through Planetair.
We are a certified B Corporation
Together, we are creating positive environmental impacts, one step at a time.